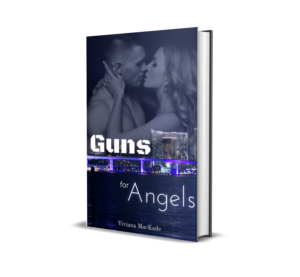 Guns For Angels
By Viviana Mackade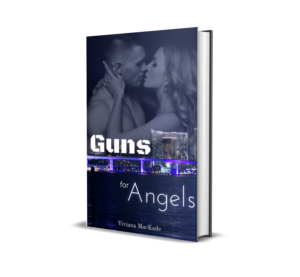 My sister was all the family I had. She was taken from me and now, someone wants me dead, too. Not sure why.
I'm sure I'm not going to give my life up, though. I'm not going to let them get away with my sister's murder.
The new me will try, anyway.
You see, when she was alive I could live in brightness and peace. Now I have to accept the darkness within me. After all, isn't life about balance? Ironically, the man who can teach me how to embrace the shadows is broken, hopeless, and angry. Mark is also the only one I trust to lead me through my heart's night, and back into the light.
The one I trust to keep us alive.
A favor to a teammate: pick up two girls in trouble, take them to the Team's safehouse. Should have been easy. It was not.
Then someone killed one of my team, one of my brothers. Now it's personal.
Even worst, they want Ann. The only person who cut through me, who woke me, who grabbed my hand and guided me back into life one smile at the time.
I'll be damned if I let them have anything.
From NY to sunny Miami, Ann and Mark run into a maze of lie, betrayal, and death, where love is the only, terrifying certainty. And when truth unravels, they will have to risk all to survive.
Excerpt from Guns For Angels:
"Hell yeah! I'm not a damn cop, Ann. I'm a Marine: I have a mission, I fight, and I win. Now I don't know who or why I'm fighting. I'm alone and I can't let anything happen to you. You do the math."
She took a long, calming breath. "I'm sorry Mark, but what you've just said is nothing more than a pile of crap."
He looked like he would choke. "A pile of…" He ran a hand through his hair, as she'd done the night before, muttering curses under his breath. "Care for an explanation?"
ABOUT THE AUTHOR: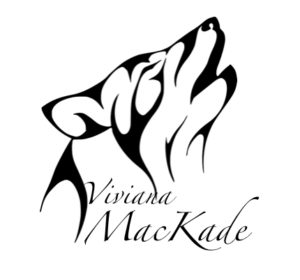 Beach bum and country music addicted, Viviana lives in a small Floridian town with her husband and her son, her die-hard fans and personal cheer squad. She spends her days between typing on her beloved keyboard, playing in the pool with her boy, and eating whatever her husband puts on her plate (the guy is that good, and she really loves eating). Besides beaching, she enjoys long walks, horse-riding, hiking, and pretty much whatever she can do outside with her family.
The best way to see what I'm up to is through my Instagram account.