I wanted to help Rhea Rhodan celebrate the awesome new Cover of The Legacy of Buchanan's Crossing with a Spotlight to show off this gorgeous new cover. Then this awesome book won an EPIC Award! So now I'm excited to share with you a chance to win an awesome ring too!
Rhea is celebrating with an awesome giveaway. Here is the prize she is offering. Please read how you may enter this giveaway below.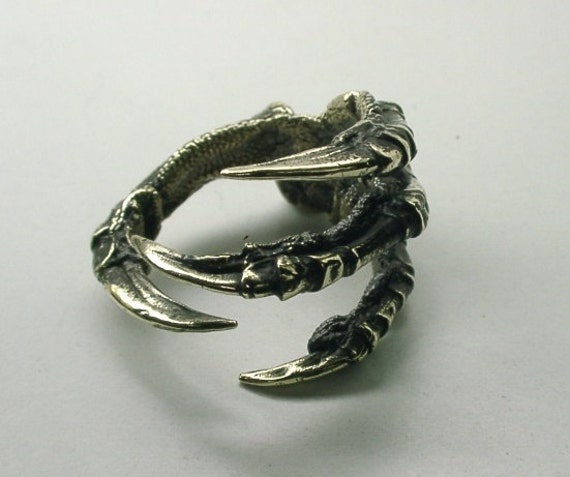 The Legacy of Buchanan's Crossing
just won an EPIC award! Whoo-hoo! To celebrate, I'm holding a drawing for newsletter subscribers. The prize is a hand-cast raven's claw ring which will made to the winner's order. A link to different views and instructions on how to enter are in the latest issue. If you haven't already signed up, all you need do is send an email to: rhea-subscribetonewsletter@rhearhodan.com with the word "newsletter" in the subject line and I'll send it to you.
~*~*~*~*~*~*~*~*~*~*~
Blurb:
Winner of the EPIC ebook award for Fantasy Romance!
Breaking denial's spell takes more than magic
Cayden Sinclair: BBW—big, beautiful witch—struggling to control her power and become worthy of her legacy.
Clint MacAllen: Blinded by ambition and desperate to save his failing construction company; he's not expecting to find redemption wrapped in goth and toting a truckload of crazy.
J Milton: Mega-developer with plans for the Crossing.
Buchanan's Crossing: One of the last magical strongholds on earth.
Each has everything to lose. All will stop at nothing to win.
This book was previously released by Musa Publishing and edited by their ruthless (excellent) head editor, Helen Hardt.
~*~*~*~*~*~*~*~*~*~*~
Review:
The Legacy of Buchanan's Crossing is the first chance I have had to read work by Rhea Rhodan. After reading this wonderful book I know I will be on the look out for more of her work.
Rhea Rhodan has created a very powerful captivating storyline with fascinating characters that had my attention all the way through the book. This is one of those books that I was up late reading because I could not put it down. My eyes were crossing as I was reading or I would not have put it down when I did to go to bed. However, the first thing I did the next morning was finish this great story.
I really liked

Cayden Sinclair. She has some very intriguing abilities and she is such a likable character. I really admired her for standing by her grandmother and the crossing. She will do anything to keep them safe. This poor girl goes through a lot and has a lot of things happen to her. She has a dear grandmother and her wonderful pet Nevermore to stand beside her though everything. I loved Nevermore, this bird is not only very loyal but also humorous. I love how he takes revenge on people that do things to hurt Cayden. He and his friends have a way of perturbing the one's that hurt Cayden or her feelings.
Clint MacAllen is a hard working business man. He owns his own construction company so he has a lot going on. I don't want to give to much away but he is surprised when a big project lands in his lap, closely followed by another large project. He's has a lot going on so when he starts having headaches he finds the Handimart a convenient place to pick up over the counter medicine to help. That is where he meets the very unique Cayden. There is an instant attraction between these two. Clint is sure that Cayden is everything he does not want in a woman. Clint really is CLUELESS at times but I found him to be a nice guy.
Overall this is one really captivating story that I certainly enjoyed. I enjoy stories that include witchcraft and this one contain some very interesting aspects of witchcraft. There is plenty of drama that kept me turning pages. I have to admit I was on the edge of my seat for a good portion of this book and just could not wait to find out what in the world could possible happen next. There is also a few steamy scenes between Cayden and Clint as they find their way together. Even with all the drama there is some humor included as well. I found myself laughing out loud at times during this story.
If you enjoy an interesting paranormal story with interesting characters and an intriguing storyline, I think you will enjoy this story. I know I most certainly did.
I can't wait to see what
Rhea Rhodan
may have in store for us next, but I know I would enjoy reading more of her work.
I was given the opportunity to read this book so that I may share my thoughts with you. As always it has been my pleasure to share my thoughts with you on The Legacy of Buchanan's Crossing.
Buy Link:
Amazon
~*~*~*~*~*~*~*~*~*~*~
Rhea Rhodan resides in Minnetonka, Minnesota and has been telling herself stories since long before she could write. She attended the University of Minnesota with a focus on Journalism, then Brown Institute for Broadcast Journalism. After many adventures, misadventures, and a couple of short marriages, she found the love of her life in Regensburg, Germany, and has been living happily ever after since.

She journaled those adventures extensively (some might say rabidly) beginning in middle school, but didn't combine her writing and story-telling until several years ago, when one of the stories grabbed her by the throat and shook her like a rag doll until she gave in and wrote it. Having tasted freedom, her muse refuses to return to the confines of her head, and has successfully turned the tables, keeping her at the keyboard to appease it.

She welcomes feedback and fan mail rhea@rhearhodan.com. You can join her on Facebook and Goodreads, too. Rhea is always happy to meet new friends.
http://www.rhearhodan.com/
http://www.facebook.com/rhearhodan
https://www.goodreads.com/author/show/6152084.Rhea_Rhodan

For (very) occasional updates with great contests, subscribe to Rhea's newsletter rhea-subscribetonewsletter@rhearhodan.com with the word "newsletter" in the subject line